Filter by Category
Workforce Training
Anatomy and Physiology
with Marti Dayton

Jan 31, 2019 at 5 pm

, runs for 11 weeks
This course provides students with an opportunity to develop an understanding of the relationships between the structures and functions of the body. Students will be introduced to mechanisms for maintaining homeostasis within the human body and the problems that can ensue when the mechanisms do not function properly. This course will involves participating in lectures, lab activities, projects, dissections, making of models and diagrams, journal writing and evaluating clinical studies. Upon successful completion of this course, students will earn high school diploma credit. No class 02/21/19 or 04/18/19. Makeup class (if needed) 05/02/19.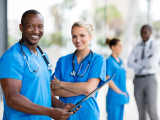 Certified Nursing Assistant (CNA)
with Joanne Hicks, RN

Jan 28, 2019 at 5 pm

, runs for 17 weeks
Are you looking for a rewarding career in a high demand field where you can make a difference in health care in your community? Certified Nursing Assistant (CNA) is a required state certification that opens doors not only to an entry level health care job but is an excellent stepping stone to a career. Upon successful completion of this course, passing the State CNA exam and successful acceptance to the State Registry, you will be a state-certified CNA. Admission begins with an orientation to the program. Call 664.7110 today for an appointment. Financial assistance may be available through regional agencies; the orientation sessions will review options. The registration fee covers tuition, books, registry exam and background check fees.
Payment plan available: $75 deposit plus 12 payments of $77.08, paid every two weeks
Heartsaver Adult and Pediatric First Aid CPR AED (Session 2)
with Ernest West

Dec 7, 2018 at 9 am

, runs for 1 week
A classroom, video-based, instructor-led course that teaches students critical skills needed to respond to and manage a first aid, choking or sudden cardiac arrest emergency in the first few minutes until emergency medical services (EMS) arrive. Students learn skills such as how to treat bleeding, sprains, broken bones, shock and other first aid emergencies. This course also teaches adult CPR and AED use. This course is for anyone with limited or no medical training who needs a course completion card in first aid, CPR and AED use to meet job, regulatory or other requirements. Makeup class (if needed) 12/14/18.