Filter by Category
Cooking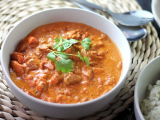 Easy India Cuisine
with JoAnne Wood

Dec 2, 2019 at 6 pm

, runs for 1 week
Explore the exotic and delightful flavors of Indian cuisine! Dishes will include:
Cauliflower, Chickpea, and Spinach Masala;
Butter Chicken;
Whole Wheat Naan bread with Onion Chutney & Raita;
Pistachio Kulfi (ice cream); and
Nankhatai (eggless Indian cookies)
Makeup class, if needed, 12/09/19.
Fall Soups and Breads
with JoAnne Wood

Nov 4, 2019 at 6 pm

, runs for 1 week
The perfect way to warm up on chilly fall evenings is with homemade soup and bread!  In this class we will make:
Lasagna Soup with Garlic Parmesan Bread Sticks;
Thai Coconut Shrimp Soup (Tom Kha Thale) with Spicy Thai Corn Fritters; and
German Sausage and Cabbage Hot Pot with Soft Pretzels and Beer Cheese Dipping Sauce.
Makeup class, if needed, 11/18/19.
Plant Based Cooking for Health
with Marc Blanchette

Sep 24, 2019 at 6 pm

, runs for 4 weeks
Nearly seven years ago, Marc Blanchette began his transition to a plant-based lifestyle during his 184 lb. weight loss. He has continued to maintain his health and weight with exercise and a diet of grains, fruits, beans, legumes and vegetables. In this class, he will share his story and experience through this journey. Marc will share the steps that he took to find better health through the power of a plant-based lifestyle. The class is designed to show how simple and affordable this way of cooking and eating can be, dispel the myths, break stereotypes and equip participants with the tools and resources needed to be successful. There will be cooking demos, food to sample, easily prepared recipes to share, local shopping tips and group support. Makeup class, if needed, 10/22/19. Note: The first class ONLY will be held at the Ellsworth Adult Education location, 248 State Street, Suite 1, Ellsworth.