Filter by Category
Self Defense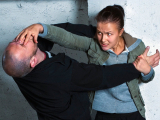 Women's Self-Defense
with Amie Torrey and Tom Anderson

Mar 6, 2019 at 5 pm

, runs for 3 weeks
This empowering course will provide you with tools to keep yourself safe. Veteran police officer Amie Torrey and karate teacher Thomas Anderson will share:
how to avoid being a target;
the power of body language;
how to be safer and improving your awareness;
escaping from a variety of grabs and holds;
how, when and where to strike;
using your voice;
what to do if a weapon is involved, and
information about your legal right to protect yourself.
You do not need to be an athlete to learn how to defend yourself! Please wear loose, comfortable clothing. Makeup class (if needed) 03/27/19.
Amie Torrey is a police officer with the City of Ellsworth and the resource officers for the Ellsworth School Department. She has more than 20 years of experience in law enforcement and is a graduate of Ellsworth High Schools.
Thomas Anderson is a lifelong resident of Ellsworth and a graduate of Ellsworth High School. He has more than 30 years of experience in karate.