Filter by Category
Music & Dance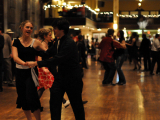 Ballroom Dance for Beginners
with Sheri Kean

May 5, 2021 at 6 pm

, runs for 6 weeks
Do you have a wedding or special event coming up, or do you just want to learn the basics of the traditional Waltz, Foxtrot and East Coast Swing?  Join us for a great time socializing and learning to dance, and it's also great exercise! Due to COVID-19 CDC Guidelines, at this time we can only accept couples. 
As Ellsworth Adult Education is a public school program, everyone will be required to wear a mask (they will be provided if you don't bring one) and maintain a 6' distance from other couples.  Hand sanitizer will be available as well. 
The Elks Lodge is providing the location at no cost during the time of COVID.  The Elks appreciate donations and pass them on to a local charity.  
Makeup class (if needed) 6/16/2021
Line Dancing Interest List
with Sheri Kean
Line dancing is a partnerless dance in which dancers stand side by side in lines and perform, in unison, a series of steps to various kinds of popular music.  No prior experience or partner needed.  Dance shoes suggested but not required.  
We are seeking a location for in person dance classes starting the first week in March.  If you are interested in this class, please register and, once we find a location, we will contact everyone on the interest list with the schedule, pricing and location details.  This will be an in person class, so masks are required and Maine CDC guidelines will be followed.