Filter by Category
Foundation Skills
Registration Unavailable
Career Advising
with Ann Sargent

Sep 5, 2017
, runs for 22 weeks
Many people thinking about a change in their lives don't know where to start. Veteran career advisor Annie Sargent will share available resources, identify opportunities and assist you in taking concrete steps toward achieving your goals. Services include academic, employment and technology assessments; producing a resume; preparing for a job interview, and much more. These individualized sessions will provide you with the support you need to navigate your new life ahead in a sensitive, confidential and informal environment.
Please contact Ellsworth Adult Education for more information.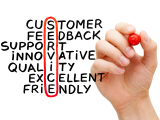 Customer Service: Making the Best First Impression
with Business Leaders

Mar 9, 2018 at 8:30 am
, runs for 4 weeks
Offering consistent, friendly customer service is a key to repeat business and customer loyalty. A big step to improving customer service is getting your employees to look at their jobs through the eyes of their customer.
The Ellsworth Area Chamber of Commerce is offering an opportunity for businesses and individuals to enhance their customer service. Trainers will be area employers, with a focus on quality customer service. Each session will have handouts that can be added to the student's personal growth file or shared with others in their workplace. A certificate of completion will be awarded to those who successfully complete all four sessions. Makeup class (if needed) 04/06/18.