Filter by Category
Business Training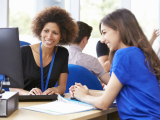 Career Advising
with Ann Sargent

Sep 2, 2019 at 10 am

, runs for 17 weeks
If you're thinking of continuing your education at any level meet with our veteran education and career advisor to learn more about how Ellsworth Adult Education can assist you in meeting your goals with career and college advising, courses, workshops, resources, both face-to-face and on-line. Sessions are scheduled by appointment. If you're interested in meeting someone daytime or evening hours, register for this workshop and we'll contact you to schedule a free and confidential meeting. You can also call 664-7110 or email adultedinfo@ellsworthschools.org to make an appointment.
Quickbooks for Beginners
with Kitty Barbee

Oct 1, 2019 at 6 pm

, runs for 5 weeks
This workshop focuses on the desktop version of QuickBooks.  Classes will include both hands-on learning as well as instructor led training.  Laptops will be provided. 
QuickBooks is recognized as the #1 accounting solution for small businesses to help with your invoicing, tracking sales and expenses, and handling your bookkeeping requirements for tax preparation.
This five-week workshop will help you better understand how to use and activate the key features found in QuickBooks so you can process payments faster, record sales and expenses transactions, and keep your accounting records up-to-date and accurate.  If you are a first-time user or just need hands-on help with your questions, this is the workshop for you.
Who should attend:
Any business owner wanting to implement a sound accounting tool for their business;
Anyone seeking to better understand the features and capabilities of QuickBooks.
This course is offered in partnership with SCORE and Barbee Business Services, and sponsored by TDBank.
World of Work Institute (WOWI) Career Assessment
with Ann Sargent

Sep 16, 2019 at 8 am

, runs for 15 weeks
This assessment measures career interests, achievements, and work styles. Work can give your life meaning, it often defines who you are, determines who you spend time with, and how you live. Because the right job can enrich your life, whereas the wrong job can drain you mentally, physically and spiritually, it is critical to avoid mistaken career paths and to find your own unique, satisfying place in the world of work. You will review this online assessment with a veteran career advisor. Priority and fee waiver for learning center students - learn more about becoming one! Available by appointment.